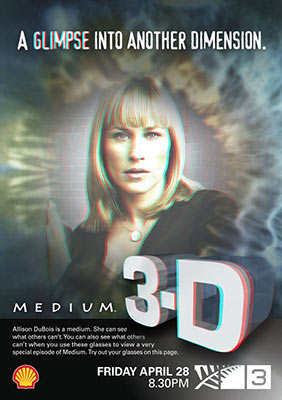 An e-mail from Duncan Jones tells the story of this advertisement (and the problems with TV3 anaglyph goggles):
- I designed and did the artwork for the 3D flyer and other 3D print ads, TV3 is my client at Colenso, and when they asked for a flyer to go with the glasses, I did it in 3D which they loved. The same artwork is on the back of next weeks TV Guide – in shops now, and a full page in this weekends Herald 'Sunday' supplement. I did the 'make your own glasses' instructions on the TV3 web site too – which has a stereo image to try.
The biggest problem I see for the show will be the quality of the glasses that are being given away, they're terrible! Blue lens' not dense enough. - if you've got some other ones, use them! - The 'make your own' ones work better, but it's hard to get decent cellophane.
Unfortunately my production manager hadn't sought more informed advice before ordering 240,000 glasses!
The anaglyph ad works fine, despite ghosting, (particularly with the giveaway glasses) - it was a compromise between getting something that works well in both 3D and 2D. The ad works so much better on screen, try out the one attached. But I'm very happy with the end result, was great to finally have an opportunity to do a 3D ad! - It's done in Photoshop, InDesign and Cinema 4D. The image of the woman was supplied flat (too bad they couldn't give me something from the actual episode) so I cut her out and put in a new background, and put the eye image over top, so there's 3 layers of depth. I created the '3-D' wording in Cinema 4D.

Duncan.