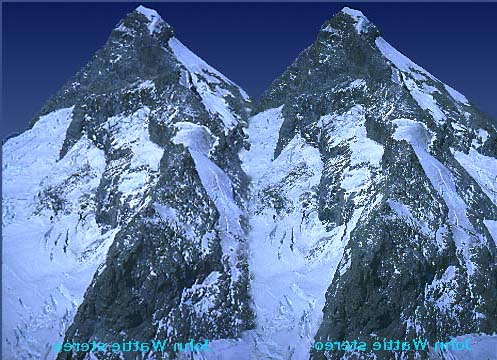 Mount Aspiring in X stereo. Use cross- eye viewing. Viewed from West.
Press the image for a full screen, hyper-stereoscopic, 102kB version, taken from South West.

(Internet explorer - press F11 to see nearly full screen. Netscape: remove navigation bars in options.)
(Best view for full screen: an image viewer like ACDSee, or along with useful stereo options in DepthCharge).
The big U stereo versions are better
a) with a 4 mirror viewer (e.g. Cazes, Wheatstone variant)
b) or a 2 prism viewer (e.g. Pokescope)
U stereo can't be seen until you pan rightwards and fuse the two middle pictures, which are separated by the black bar.
In stereo a bar will show up on each side of the stereoscopic picture, framing it.
Ignore the two outer pictures.
The small U stereo version can be seen
1) by free viewing, or
2) with a prism lens viewer (e,g, Holmes viewer)
The long ridge running up to the summit of this glacier-carved mountain can only be understood when the two images are viewed in stereo.
The monocular image gives a false impression of this classical mountain shape, sometimes called the "Matterhorn of New Zealand". Since this is hyperstereoscopy, the mountain looks smaller than it really is (model effect).
Photographed in February, when snow cover is low.
| | |
| --- | --- |
| | |
| Mt Aspiring, U Stereo | Mt Aspiring, U stereo |
U viewing for small computer screens - not recommended, but better than nothing.
A writhing mountain ridge
In the section on how to take 3D pictures, stereoscopic parallax is described.
The stereo parallax can be changed by moving your head from side to side while viewing in 3D on the computer screen. The result shows up especially well on this stereoscopic pair, by the long ridge running towards us seeming to writhe like a snake.
ZPS is well in front of the mountain and this image is all in CRT space (positive parallax). When your head moves sideways, you change the horizontal magnification, as perceived by the eyes. This changes the separation between the two images and is interpreted as a change in depth, making the mountain wriggle.