Doubtful Sound and its feeding valleys have been carved by glaciers. Hanging valleys are now a feature, each with its water-fall. Here is a water fall not coming down a hanging valley. With rain storms, there are waterfalls just about everywhere. The sound contains sea water, but it is diluted by very heavy rainfall and by fresh water discharged from the Manapouri Power Station.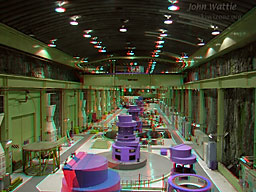 The fresh water floats on the sea water. There was a fear that unusual animals in the sound (like black coral) might not be able to handle the power station discharge, but that has proved to be no problem. A permanent tribe of Dolphins make this sound their home.
This colour anaglyph of beech forest shows acceptable colour because there is no red. Here is a stereo pair of Doubtful Sound showing "correct" colour.