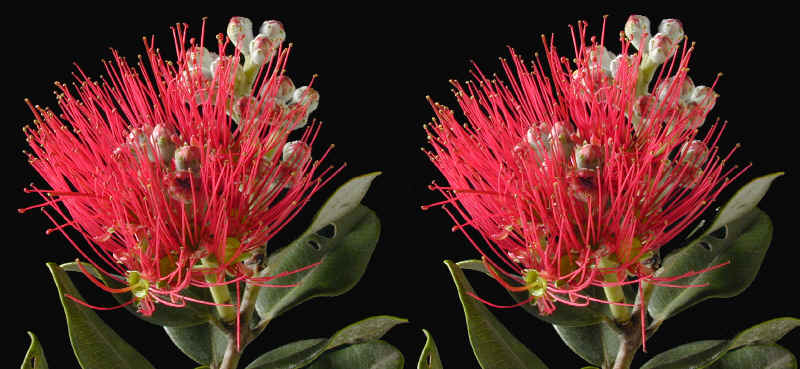 Pohutukawa in flower beside the sea, Northland, New Zealand. (Press for full size version which shows more of the bay)
The crimson flowers of the northern coastal tree, Pohutukawa, blossom from late November through January. In a good season Pohutukawa can be converted from dull green of the leaves to a bright red, making it an excellent symbol of Christmas, smothered in flowers.
The fluffy flowers mark Pohutukawa as a member of the Myrtacea family, which includes the lovely flowering gums of Australia. Unfortunately, the Australian possum enjoys eating Pohutukawa very much. Possum was introduced to New Zealand last century and it has become a major pest, dining on the leaves of many New Zealand forest trees.
Metrosideros robusta is the Northern Rata tree, whose leaves and flowers are very similar to
Metrosideros excelsa, the Pohutukawa.
The photograph only shows leaves and flowers, so it could easily be confused with Rata, but the habits of these two trees are quite different. Rata germinates in the fork of a branch, high in a forest tree. Aerial roots reach to the ground and surround the host, eventually strangling it. (Some claim Rata does not kill strong trees - only decrepit trees succumb). As the host rots, Rata becomes a forest tree itself..
Pohutukawa germinates conventionally in the soil, preferably beside the warm sea around northern North Island. Sea cliffs are often stabilised by the roots of Pohutukawa.