Stereoscopic vision is essential for predator animals who catch other animals (owls for example), but has secondary importance for animals who are chased (such as rabbits or deer).
Both eyes seeing the same scene reduces the field of view and allows other animals to sneak up undetected. Prey animals prefer a panorama view of the world, where their eyes are placed on each side of the head, allowing nearly a 360 degree field of view (rabbits).
Humans are modified tree apes (except in certain USA states, which deny Darwinism). Tree apes swing from branch to branch and failure to instantly judge the world in 3D could lead to a nasty fall.
Just as with a camera, light rays cross over in the lens so the picture on the retina is upside down and back to front. The brain has no problem with that and just interprets the information around the right way.
Binocular Vision
Because our eyes are separated by about 65mm, the world seen by each retina is slightly different. The difference is great for objects nearby, but imperceptible for distant things, like mountains. Useful stereoscopic vision while we are moving about fades out about 200 meters away, (1 arc minute) (In the laboratory, stereo vision can be measured at best down to 5 arc seconds: meaning stereo vision theoretically extends to 2.7Km). In standard stereoscopic photography, useful 3d stops short of 200 meters, but can be extended far beyond by using hyper-stereoscopic photography.
A 3D perception of the world is built up in the brain, which computes the retinal differences and interprets them as 3D. People looking at a stereoscopic picture may find the third dimension only develops slowly. The longer they look, the more computation the brain gets through and the 3D impression gets better with time. Those who look at many 3D pictures seem to handle the computations increasingly rapidly, so stereoscopic vision is partly a learned response. In fact, all visual interpretation is learned in infancy, especially binocular interpretation. The basic brain mechanisms are present from birth in the visual cortex, but only experience leads to binocular interpretation becoming "hardwired". If one eye has poor muscles ("cross eyes") it is suppressed and binocular cues may never be worked out properly, which means a squint must be treated early in childhood.
If you hold a pencil in front of your nose and look into the distance, you see two pencils. Some people do not see two pencils because their brains suppress information from one eye. The suppressed eye may shift from right to left, or there may be permanent suppression of one eye. These people may have difficulty seeing 3D pictures. People with only one eye, or with one eye suppressed, never will see in 3D.
Components of stereoscopic vision:
Convergence of the eyes (achieved by the eye muscles) until double vision is overcome.

Focus of the lens to render objects sharp

Physiological diplopia. 3d vision depends on repeated corrections for double vision. As shown in the window spot experiment, double vision extends for 18 meters (see the left column.) Stereoscopic vision begins after double vision is corrected by eye movements.
Slight retinal differences, still remaining after focus and convergence, are detected by retinal receptors which are matched in the two eyes.
Big differences between retinal images are solved by the eyes changing their convergence, to overcome double vision. (Vertical displacement and rotation can also be corrected, but only if they are small and often these errors cause discomfort.)

Once the brain has fused an object into one, the small disparities that remain are interpreted as the 3rd dimension.

The limited range over which a retinal difference is interpreted as 3D rather than double vision is called Panum's fusional area.

Even if there is double vision, the brain can integrate the various Panum areas to produce a 3D impression, but it takes time to achieve it. So do not rush looking at a stereo pair, especially if there is great depth. Give the brain and eyes time to scan across and into the stereo picture.
3D photography gives an impression of depth which is less convincing than real life.
The ability to move our heads sideways to sort out problem areas, by movement parallax, is impossible when viewing photographic stereo pairs. Better stereo images are kept relatively simple, to allow for the reduced information in still photography compared with reality.
The focus of the eyes is adjusted by changing the shape of the lens through the ciliary muscles. As the eyes converge to look nearby, the eyes automatically focus close to prevent the world becoming a blur. The eyes work on "auto focus", just like a modern camera.
But focus does not give 3D information. If the convergence information about distance does not agree with the sharpness of the image, the lens changes shape independently, until the blur is removed. Focus is involuntary, and some people have difficulty with it. Stereo pairs are always presented on a flat surface and so focus information and binocular information are never in agreement, which is a defect of stereoscopic displays.
We interpret the scenery as one image, which is referred to as the "cyclopean eye view of the world". This conceptual cyclopean eye sits in the middle, between our two real eyes.
Neuro-physiologists have found retinal differences between the two eyes are directly mapped in the brain. The occipital visual centres detecting retinal disparity between the eyes are closely linked to neural centres which control eye convergence and focus, by directing the eye muscles.
The brain is tolerant of small differences between the two eyes. Even small magnification differences and small angles of tilt are handled, without conscious double vision. Differences in brightness are handled easily. Differences in contrast are interpreted as changes in reflection angle, producing a sheen on surfaces. Differences in colour are no problem, in fact one eye can see red and the other blue/green and still interpret the scene as three dimensional (as in anaglyphs).
The eye has a tiny area of maximal acuity (the fovea or macula on the retina). The fovea is devoted to high resolution and colour reception.
The background image on this page shows the macula of the author's eye. It is the dark, central area in the retinal photograph. Note how blood vessels come close to the macula but do not cross it, producing a radial pattern. This means the steadily narrowing blood vessels do not interfere with central vision. (False colour image to enhance blood vessels. Original retinal photograph by Bryre Murphy.)
Good stereo discernment depends on good vision because the differences between each eye image can be subtle. Keep your correcting glasses on when viewing in 3d.
3D is seen with reduced accuracy away from the fovea, in the more peripheral vision. Here there are colour-blind receptors (rods) wired up to specialise in detecting differences over time rather than spatial resolution. Movement is detected by changes in our peripheral vision, which is essential to avoid predators (and motor cars). All we know is something in the corner of our visual field changed. Then our eyes turn to find out what changed, by putting it on the fovea, to judge it in high resolution 3D.
Stereo vision does not depend on recognition of objects by each eye. Random dot stereograms reveal 3D is seen first and recognition of objects comes second. However, the world is not all random dots and in the real world we do recognise objects first and see 3D later, even if the more slowly developing 3D impression does not depend on object recognition.
Visual Integration
The eyes are connected to 6 other nerve centres in the brain. For example, the balance system. The position of the head is monitored by semicircular canals in the ears. The head and eyes are turned to correct for changing head position, as measured by the ears. If information from the eyes does not match positional data from the ears, some people become nauseated (motion sickness) and their eyes flick from side to side (nystagmus), trying to make the conflicting information coherent.
Movement stereo
People with one eye can still get a 3D impression of the world by moving their heads sideways and noticing how objects move in relation to each other. Close objects move, distant objects seem to stay still.
People with two eyes also use this trick, which is well illustrated by looking out the side window of a car or train.
One of the deficiencies of stereoscopic photography is the inability to use head movements to resolve problems of 3D perception. A good example is yacht masts in a marina. Often a mast will vanish behind a closer mast in one eye but not the other. That is resolved by slightly moving the head sideways, but on a stereoscopic photograph the "mast illusion" cannot be solved.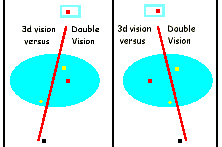 Cross your eyes or go wall eyed to fuse this image. You will see a combination of stereoscopic and double vision, which work together as your eyes move about to build up a 3D impression.
The black dot is a problem, it is often seen as double, when the tip of the red line is single. When the brain is confused, perspective rules come to dominate over binocular rules of 3d. The confusion is worse with X stereo than with U stereo