Here is the sun, photographed in 3D by the two STEREO mission space craft, through telescopes with ultraviolet sensors. The STEREO craft supply the largest stereoscopic baseline humans have yet seen. But the same roundness concepts apply to their 3D images.
Early in the mission, when the craft were not yet separated by a huge distance, the stereo base was bigger than anything on earth, but a lot less than later on.
The sun looks flattened on a computer screen, because the stereo base was not yet big enough for correct roundness.
But maybe, "base is not big enough," is a wrong statement?
Try moving back from the screen, still wearing the anaglyph goggles. (Sorry, you may have to get out of your comfortable chair.)
Like magic, the sun will seem to "put on weight" and become rounder.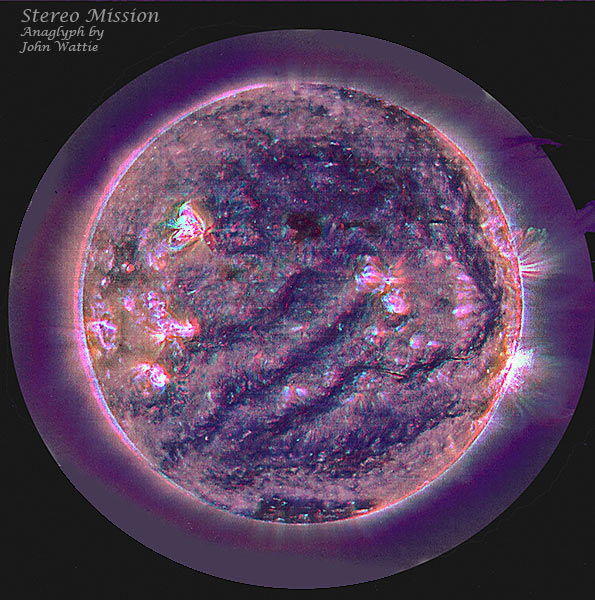 My computer room will only let me reach 2.5 meters from the screen (by backing out the door) but by then the sun is nearly perfectly round. Two and half to three meters is about where you would be watching 3D TV from (if you had one).
I have made STEREO mission anaglyphs after the two space-craft separated further; with correct roundness, or stereoscopic perceived depth for a computer, and they are available on this web site.
Hmm. It seems computer screens, TV screens and projector screens are very different when it comes to watching stereoscopic 3D, so we had better look further into this roundness business.