Instead of taking a picture, then running to capture another, it is more efficient for wide base stereo to ride in a smoothly moving vehicle, while capturing pictures out the side window, at right angles to the movement.
The smoothest motion comes from a boat on calm water or an aircraft flying straight and level. The delay between images depends on the speed of the craft. Take a series of pictures and choose the best pair later.
Some stereographers call this process "taking sequentials."
If the motion is rapid, put the camera on motor drive (burst mode) and keep aiming at the same point as you photograph, taking care to have the camera parallel to the direction of travel, which is the horizon if you are going straight and level. Aiming at the closest object is common, but causes toe-in. In theory you should aim at the most distant object, but this rule was made for film photography. With digital images, perspective corrections can be made later, during post-processing in Photoshop, or StereoPhotoMaker, so do not worry unduly about where you aim. Just make sure whatever it is stays in exactly the same part of the frame, with no moving of the aiming point up or down (which causes vertical perspective errors) and no rotating of the camera. However, even those faults can be corrected in digital post processing, which is just as well when your boat is rocking.
If the craft is slow, take pictures when you see there has been a slight change in the alignment between near and distant objects. Experience with cha-cha on the ground will help considerably in deciding this.
Stereophotography from a train or car is possible, but frustrating as you will quickly find. Telephone poles and fences are too close for stereo and get into the picture without warning (often into only one of the stereo pair, which is disastrous). Reflections in bus windows are a pain. However good stereo from a bus can be done, as "The Wagman" has brilliantly shown with his "Drive by Stereo" in Rome: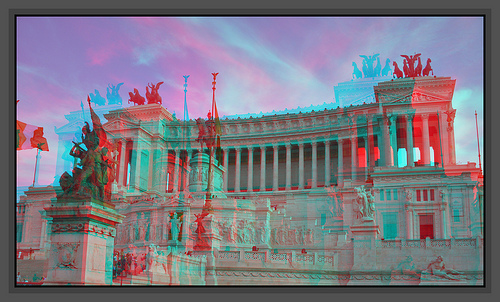 Stereo from a bus by "The Wagman" (Raymond Michael of Canada): reproduced with his permission.
Click on the image for larger sizes and to add your comment
Drive by stereo can be spoiled by people or traffic moving between the two images, but Ray has cropped off the bottom, where the movement was. In the process he made a 1.66 aspect ratio format, which nicely suits a modern wide-screen computer monitor or HDTV.