version - 12/03/19
A personal record of things I have learned about stereoscopic photography: by experimenting, doodling on the backs of envelopes and reading. If others find it useful, jolly good. If the knowledgeable fix errors, (as Frank Di Marzio notably did) even better. Anticipated corrections are the main reason for putting it all on the web.
2nd Edition of the stereo web site. 2012
This first edition web site is badly outdated and is being re-written. So far the only useful pages you can access on the second edition are
digital stereo camera rigs
Others are being gradually added and show up on the top menu
Updated:
March 12 2007: Fungal foray anaglyphs
April 2007: STEREO space craft
---
August 2006: version 2.3 of the stereo base spreadsheet, for PDA use in the field. Includes Wattie formula for base versus image magnification.
---

This work is licenced under a Creative Commons Licence.
Pictures to view in 3D:
Flickr Recent John Wattie stereo in order of "interestingness"
Favourites My personal favourites of other photographer's work.
Taking 3D pictures
How to take stereo pictures with an ordinary camera
Making Holmes cards versus computer stereo
Stereo mathematics: Bercovitz, Di Marzio Equations, Pe Pax, 3D window, Spreadsheets for computing stereo base for 2 digital cameras with zoom lenses.
Anaglyphs.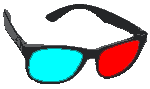 (updated March 2006)

anaglyph links including ColorCode anaglyphs.
How to see stereoscopically
Elementary physiology of binocular vision.
Free view,stereo by eye gymnastics

Optical Viewers for computer 3D, not needing eye tricks
Viewing 3D using a 45° prism or a mirror.
Stereoscopic Picture Essays
Stereoscopic photography in caves.

Fungi in 3D Close up 3 dimensional photography on the forest floor.
Fungal foray May 12 2007: anaglyphs


"Wobble stereo" and anaglyphs are available
to help those people who cannot do stereoscopic optical gymnastics
.
Stereoscopic New Zealand Orchids by Eric Scanlen: guest photographer.
2009 orchid anaglyph slide show (Auckland Museum)

Weta in 3D Close up of mouthparts included.

Stereoscopic X-rays

1 Abdominal Aortic Aneurysm CT 3D reconstruction

2 Sea shell, 3D X-ray showing the internal spiral structure

Comet Halley in 3D Showing its tail pointing away from the sun (and Earth).

Astronomical Nebulae in 3D Rosette and Tarantula. Now with anaglyph.

SOHO images in 3D: solar anaglyphs

STEREO and Hinode 3D solar images


Kauri trees in 3D Agathis australis, New Zealand's biggest trees.

Historic Howick in stereo

Amazon Jungle in stereo

Tuatara (Sphenodon) in stereo anaglyph